Granita-match Buffet Sideboard and Wet bar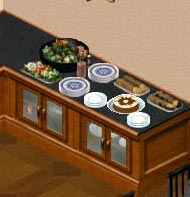 Sideboard with Salad & Dessert Buffet:

This buffet table wont work with the caterer NPC (I forgot all about him when making it. oops.)

Two-tiled functioning sideboard - This sideboard has a higher "Serving Surface Function" value than counters do. This allows you to place the sideboard in your Sim's dining room, encouraging the Sims to walk right past the kitchen counters and serve the meals they have prepared on there.

Self Serve Salad & Desert Buffet - This compact party favorite also has a built in buffet feature that serves salad & dessert plates. On non-residential lots, the buffet is always full.

Designed for a built in look - Counters placed next to this sideboard will 'corner' for a built in look. The cabinetry is a perfect match for Maxis' Granita counters and the DTS counters (without the black "granita" top).

Additional Surface Space that wont interfere with the buffet function - When not being used as a self-serve buffet table, the sideboard also functions as a additional surface space that both player and sim can place things on. When you have your Sim set the buffet out, the objects that are on top the sideboard become 'hidden' but remain functional. When you have your Sim clean the buffet up after eating, the objects that were on the surface reappear.
No EP required.

RELATED: An apartment hacked version is also available.
A generic "Convert To" object has also been create to turn any surface into a functioning sideboard.
Several variations of sideboards are available at SSoW, with and without built-in buffet functions.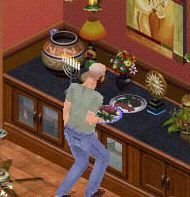 NOTE: About placing objects on the sideboard:
Multiple objects can be placed on the sideboard, and your Sim will continue to serve meals on the surface as long as the center space on at least one side of the sideboard is free. The player will need to exercise some care in the kinds of objects placed on the sideboard before the buffet is set. Sims can still see and use objects that are hidden from your sight so a radio that is on will continue to play music, and Sims will dance to it. If you place a punchbowl or the bar drinks on the buffet and then serve, your Sims will also be able to take drinks "from" the buffet, though you won't see the punchbowl or bar graphics. If you leave an old meal plate on the buffet, it will spawn flies over your buffet, so S.S.o.W. recommends cleaning up any old leftovers before you set the buffet for guests.