The Tavern
What did pirates eat?
Our pirate theme is inspired both by movie fantasy and the golden age of piracy in the Caribbean during the 17th century. So the food is a mixture of 17th century meals, Caribbean cuisine and imagination! The buffet has 2 menus - a Pirate Spread, suitable for low class taverns and the more refined Admiral's Feast.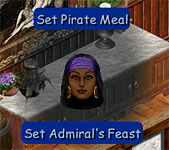 Choice of buffet settings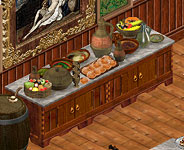 Buffet set with Pirate Meal

Buffet set with Admiral's Feast

The empty buffet used as a sideboard
Double Buffet with 11 custom meals Choose between everyday pirate fare or set your table with festive feast fit for an admiral! Each table setting serves a unique menu of custom made food (detailed above) that doesn't stop serving until the table is cleared or the food has spoiled.
In between meal times, this sturdy, attractive cabinet is the perfect spot to show off your treasures and décor with plenty of storage below for your finest service-ware. Just give the stone surface a quick clean up after meals and it's sure to become a treasured heirloom within days.
See readme for full features list; No EP required
Huge thanks to Parsimonious for allowing us to use some of their buffet graphics on our tables.
The Pirate Spread has Salmagundi, meat & bread, rice & beans with plantains, Johnny cakes, tropical fruit and ackee n' saltfish. The last dish is a Caribbean specialty - the salted fish was carried over on ships from Europe and ackee is native fruit.
The Admiral's Feast has turtle soup, fried fish, jerk chicken (a spicy Caribbean chicken dish), verjuice meatballs - a 17th century dish of meatballs in a sauce made from unfermented, unripe grape juice. For dessert there is tropical fruit and plum duff - a boiled pudding made from a suet dough, raisins, spices and molasses.
The pirate meals shown are the ones created by Bag of Tricks for the pirate sideboard buffet.
Additional meals can be found with the ship's grill top stove and the ship's cool chest (fridge)

Tavern dining table

Rum bottles

Tavern Bathroom sink

Knife throw
Rustic Dining Table - No EP required
Rum Bottles - Sims can now play the better host as 'Make Drinks' has been drastically improved over the original "at home" beverage bar allowing Sims to drink together and socialize. In addition, these rum bottles can be placed on any counter, desk, or table, allowing your Sims to grab a drink without fear of clashing with the decor.
Those with Deluxe, Hot Date or higher installed will find 'clean up' much more convenient if they place a sink nearby; No EP required.
Bathroom Sink - No EP required
Knife Throw - Practice throwing knives for fun and some body skill. This object may be used on residential lots as well as "location" lots. The target painted on the wall may be covered by any artwork you like. Use the painted target as a guide when hanging a new target over it. (Note: The new throwing knife prop included in this download is "mac friendly".)

Requirements: This item uses the animations from Maxis' Dart board so requires that object be installed in your game.

Pirate King Painting

Viewing The Pirate King together

The King's Mistress Painting
Pirate King Painting - This portrait of the infamous Pirate King will be a talking point for all sim pirates. Made on a joinable art clone, sims will gather to view the art as a fun social event.
Base by Magic Sims; No EP required.