Personality NPCs - Magical Cashiers
These cashier NPCs have new 'idle' animations to give them different 'personalities', and add atmosphere to your shopping locations. They use animations from the game & the EPs, so no new animation files need to be installed. The 'personality' does not affect your ability to purchase items or your Sim's 'experience' shopping. Each register spawns only the gender/skintone/bodytype shown in the preview pic.
The cash registers and NPCs come in one "EZ Clone" iff, designed so you can easily change the skins to create your own custom cashiers. Both Windows and Mac users can find instructions for changing the NPCs' skins of your clones, in the DIY Tutorials area of the Woobsha Workshop section.
Witches and Wizards

(MM required)
These cashiers all "practice" casting spells; that is to say they go through the motion of casting and a spell effect can be seen. None of their "spell casting" will interfere with any Sims in any way or upset any non-magical Sims. At present they all use the MM "cash box" animations (originally associated with the Kiosk style register) with countertop cash boxes, but versions that use a kiosk and a more modern till likely will be added.
'Vain' Cashier, 'magick town' model: (HOME ENABLED - found in the Magic category on Home lots)
Morganna Macon of the Macon Magick Supplies Shoppe, extremely vain and slightly grumpity, Morganna fares better if you place a store mirror in the room to keep her occupied. (Morganna prefers mirrors she can "Admire" herself in but will use most others if she must.) When not applying makeup admiring herself Morganna practices her magic both in a general sense and using the mirror for targeted spells. The mirror is also used to help her change clothing (which accounts for the large number of dresses bundled in this zip). All of that magick practice comes in mighty handy when pests (roaches or flies) happen into her shop, though, as she's ready willing and able to dispatch them immediately! For those with Unleashed installed, Morganna Macon is also a gifted a palm reader, a reviver of the dead, and a pet channeller on both home and away lots.
Requires Makin' Magic; Unleashed Recommended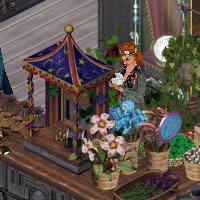 Rowan Reading, 'magick town' model: (HOME ENABLED - found in the Magic category on Home lots)
Rowan is a quiet, mature witch who whiles the hours away reading her tomes and crystal ball (custom accessory files included), practicing spells, gently ridding the shop of any flies or roaches that happen to wander in, and tending the shop's potted plants between sales. For those with Unleashed installed, this clerk will also read palms, revive the dead and channel your pets' needs on both home and away lots.
Requires Makin' Magic; Unleashed Recommended
Object Makers please note: During the purchase transaction the "Magic Town" style counter-top register is not electric, using MM's cash box animations.
Hackers please note: The "Magic Town" style register is a good study if you are interested in using the Makin' Magic Spell effects. Note the "pass temp 0 to main" portion of BHAV 5117's Line 3. Because of this, the value I that assign to Temp Storage Zero is used by the spawned object (NPC-FX.iff). As illustrated in my BHAV #5113 ("if Mirror - spell reflect") this FX file can be associated with any object, not just NPCs. Awesome, huh?
Non-magical Cashiers with electric/mechanical registers can be found on page 1.