DSCali's Cheap Eats Decor
Hacked Decor Bases - Curios
These curios are small decorative pieces sit on any surface (including souvenir shelves and curio/awards cabinets). They can be used as centerpieces for tables that allow that sort of thing and will sit on next to other objects on a surface that allows multiple objects to be placed on it. (Tech-speak: These are not 'zero exclusive and, with the correct expansions installed, are height 9 enabled.)
No Expansion Packs are required.
6-in-1 Curio Collection (with Randomized Graphics)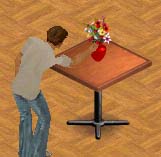 The "6-in-1 Curio Collection" bases allows an object maker to make a collection of decorative objects that only take one buy mode space.
These 'changeable' centerpieces are several decorative items built into one that players can change while playing the game. These items may be simple recolors of each other (a good way to keep buymode a bit neater) or they can each be a completely different. It's entirely up to the object maker.
The game will pick one of the curios at random to display when you first purchase it. This allows the player to decorate freely in Simless Buy mode. The player may also change the look of the curio at any time in Live mode by directing their Sim to "Pick..." one of the other decoration.
Tip for Object Makers: The interaction menu can be disabled if you wish by simply un-checking the additional options in the TTAB resource. Any program used to adult/child/visitor enable a object can be used. Simply highlight each one you want to hide, un-check both Children & Adult so that option will not show at all for any Sims.

6 in 1 Stone Spheres
single (1) rotation base
No EP required


6 in 1 Crystals
two (2) rotation base
No EP required

6 in 1 Crystal Clusters
four (4) rotation base
No EP required
2-in-1 Surface and Floor curio
This decorative piece is a "2-in-1" object. It has two graphic states, one is used when the item is placed on the floor ("OnFloor"), the other graphics is used when the object is placed on a surface ("OnSurface") of any height including souvenir shelves and curio/awards cabinets.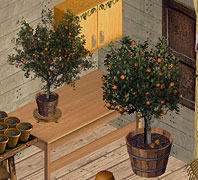 Artificial Orange Tree
one (1) rotation base
No EP required
The smaller (surface) tree is a bit oversized so bleeds through walls some. This is a decorative plant and requires no watering.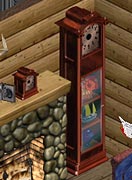 Broken Clock
two (2) rotation base
No EP required
This object is decorative and does not function as a clock.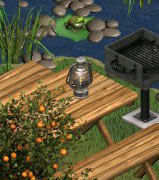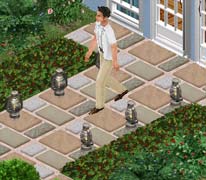 Using completely different graphics for each position means the two have separate Z buffers. This allows the sims creator to assign different X and Y positions for each placement. Notice how the lantern sits in the middle of the tile when on a surface but sits off to the side when placed on the floor? I could not do this if both spots used the same Z buffer.
Using completely different graphics for each position means also being able to make a table version and a floor version of the same object. You might, for example, make it a small vase when placed on a surface but a large sim-sized statue when placed on the floor. Or ... orange trees :)
You'll want to be careful with making very large items (such as the orange trees), however. This was made a "Curio" base, after all and when placed on a floor this decor adopts some rug like qualities, allowing a Sim to walk through the tile it is on. Unlike a rug, furniture/objects can not be placed on this decor, however. The tabletop versions will act as centerpieces allowing sims to eat at the table (which looks weird with large items)
This item can be placed on slopes, on pools and on pond water (all of which count as "Floor" and display the "onFloor" graphic)
Basic Bases for Decor and Deco-Only

No Expansion Pack Required
Stationary Statuary
18 tiled "Deco-Only" base
2 rotation base

This large 3 by 6 tiled object was made in response to a couple of requests for a base to make decorative vehicles using graphics from Maxis.
* has no Interaction (no "View", for example)
* does not effect rooms score
* water (pond) enabled
* does not require the move_objects cheat
* does not have any odd side effects (such as bursting into flames).
Flaw Found! (read details) Flaw Fixed!
8 tiled "Deco-Only" base
4 rotation base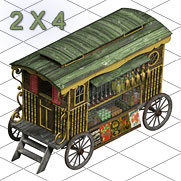 8 tiled "Deco-Only" base
2 rotation base
This large 2 by 4 tiled object was made in response to a couple of requests at Simblesse Oblige using graphics from Maxis.
* has no Interaction (no "View", for example)
* does not effect rooms score
* water (pond) enabled
* Spawns no NPC
* Sells no items
(No EP) Rug Bases

1x1 Base *fixed*
single (1) rotation base
No EP required

2x1 Base
single (1) rotation base
No EP required

2x2 Base
single (1) rotation base
No EP required