The Secret Society's Newest News:
I've updated my computer. If I can actually get myself to sit down long enough, woobsha.com will be re-organized to accommodate all of the stuff that's available at the Yahoo!Group and the metric ton of un-or-nearly-finished, undistributed items I have in my computer. In the meantime, while sorting through the wreckage, I'll be uploading some of the less flawed items to that group. There wont be any schedule, rhyme or reason for the uploads. I'll try to pop a notice into the group when I do so, but Yahoo's automated messages may be one of the only indications there was activity.
At the Yahoo Group:A straggly line of "AS-IS" updates trickle in:
I've uploaded a ton of stuff that I failed to mention on this page. All of it has gone into the pre-released objects folder (which now has subfolders) or into the new pre-released bases folder at the Yahoo Group. Here's what I uploaded during this past month:
Loft Beds are uploaded to the yahoo group. 3/10/12
MiniFridges were uploaded to the yahoo group 3/13/12
2 Magic Shop Display Recolors uploaded to Y!group 3/16/12
3 Faux Dragon Adoption bins (excludes enc) uploaded 3/17/12
DIY/Hobby Kit miniHomes (mech) uploaded 3/20/12
White Stone patio uploaded to the Y!Group 3/23/12
Napa add-ons uploaded to the Y!Group 3/23/12
Beer tubs (copper and gal. steel) uploaded 3/30/12
Small Talk invisi-yak uploaded 3/30/12
Sci Fi furnishings & doors uploaded 3/30/12
3 tier surface (x3) + coffee table uploaded 4/02/12
Modern Scullery Maid uploaded 4/07/12
EZClone Pizza Dude uploaded 4/07/12
ULGarderner Cashier uploaded 4/07/12
GnG grapes display uploaded 4/07/12
diyTents (wlls and doors) uploaded 4/10/12
build recolors and hacked door bases uploaded 4/10/12
Some pics: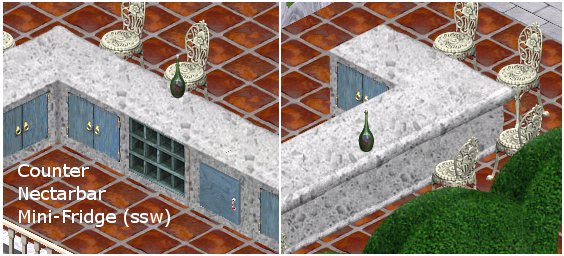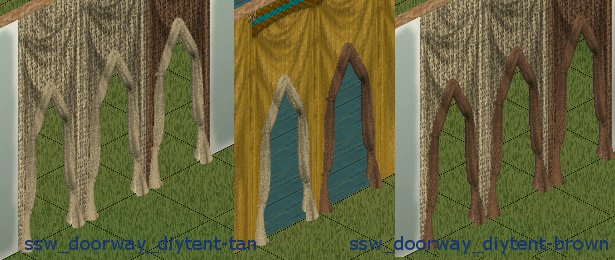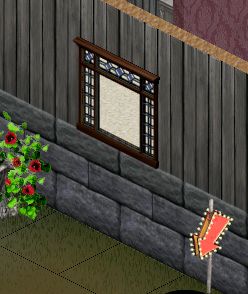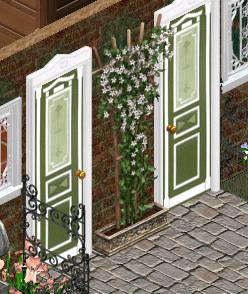 ---
The Secret Society's Previous News:
July, 2011

Introducing Dragon Pet Displays
Three display selling dragon treats, dragon chew toys, and dragon nests. These are simple "add-ons" to the rather awesome Parsimonious petshop set "Something Familiar", though the incubator (egg display) can also be placed on residential lots as a decorative item.

Treats and Chewtoys for Dragons
Counter displays. Also sell UL treats and toys.

Dragon Egg Incubation Display
Sells "dragon nests" on location lots and is decoration on residential lots.
Yahoo!Group uploads
July 27: Three more of Melissa's DSCali sets have been added to the yahoo group: Isabelle Archer Bath set, the Deep Sea & Foam livingroom set, and Lydia Wickham's Bedroom set
July 20: Those wizard robes for male adults mentioned earlier have now been uploaded to the yahoo group along with and a few other little skins (one female face & a few recolors that go on the Witch body mesh).
Originally, we were thinking of making a "magic" theme with skins, lots, and many more objects but we wont be able to produce enough content so the bits will be incorporated into the website, except for the wizard robes which will eventually be added to the Yahoo!Group (because, frankly, I don't want to figure out where to add skins on this objects site). Before anyone gets too excited about the words "wizard robes" I'd better mention that these are "the common man" wizard robes. They are great for dressing all of your Townies or what your wizard might wear around the house. For super-stars of the wizarding world you'll want to look elsewhere or even elsewhere.
The Secret Society's Latest Updates