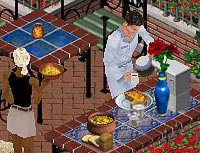 Page 2 : Functioning Sideboards
Traditionally 'sideboards' have been made out of desks. They are often stylish and beautiful but do still function as desks. SSoW sideboards have more "serving surface" function points than counters encouraging Sims to walk right past kitchen counters and serve meals in the dinging room instead.
Sideboards with Timers (Breakfast Patio Set)
Sideboards with Built in Buffet Tables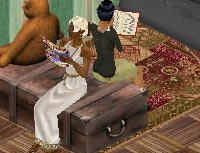 Page 1 : Hacked Bases
Using unfinished or Maxis graphics, these items are more for object makers than players.
Browseable Shop Counter Base (No EP required)
Dresser Base with surface space atop them
Surfaces that double as seating objects