Mix-n-Match Black Iron Patio set
(Breakfast Hacked)
5 piece Black Iron Patio set (TS) and Brick Planterbox Fence (TS)
These sideboards and dining tables are hacked to be more attractive than other surfaces for serving and eating food between the (sim) hours of 2:00am and 10:00am encouraging sims to take breakfast on the patio while still eating other meals in the dining room. (Breakfast foods not included)

Patio sideboard with cobalt tiles (TS)
1-tiled patio table with green mosaic (TS)
Wrought iron patio chair (TS)

Patio sideboard with decorative tiles (TS)
1-tiled patio table with cobalt tiles (TS)
Brick planter fencing (red flowers) (TS)
Additional Hack: The patio surfaces are hacked to recognize Simlogical's Seasons Hack. During "Winter" sims will not serve or dine outside during the winter season unless no other dining area is available. This furniture will still attract the breakfast crowd if placed indoors during Winter.
Base Graphics Credits: Patio surfaces (dining table and sideboard) by Around the Sims; Dining chair by Parsimonious
RELATED: For entirely new looks check out the lovely Easter Breakfast sideboard that Ruth (of Bag of Tricks) has gifted Simblesse Oblige with and the outstanding cabinet work of my favorite Mad Maxis Matcher at Madoria's World!
Other hacked sideboards found throughout the site

An Invisible All-Surface Sideboard hack.

The perfect fix for any desk-based "sideboards" you've already downloaded.
A 2 tiled Sideboard with built in Brunch Buffet
(Salad and Desserts only)
Granita match Sideboard/Buffet: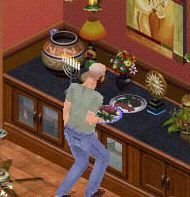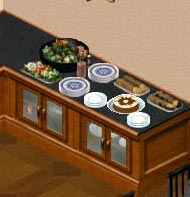 A 3 tiled Sideboard with Double Buffet built in
(All-U-Can-Eat, 11 custom meals)
The Pirate Tavern's Sideboard/Buffet: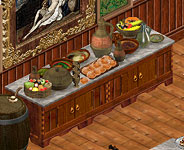 RELATED: As part of the medieval themed 12th Night Celebration set Simblesse Oblige offers a 3 tiled 12th Night Feast Sideboard/Buffet with a gorgeous peacock centerpiece. This is also All-U-Can-Eat with custom meals.