8 Sim Lane
Aunt B's Pirate Ship
A pirate ship in a semi-secluded anchorage.
Along with Maxis items the lot is made up of objects created by Aunt B, Bag of Tricks and SSoW most of which can be downloaded directly from this page. The rest can be found by visiting our respective websites. This is an oversized lot that has been imported into Lot 8.
Download (lot): Aunt B's Pirate Ship at 8 Sim Lane
See below for Shopping List & expansion pack details
Boarding the ship you find yourself on a tidy deck. The Galley lies behind a door to your right, to the left a sturdy door leads to the Captain's Quarters. Stairs in the center of the ship lead below into the belly of the ship, surprisingly well lit by the open gun-ports.
Captain's Quarters
While a captain's rank earned him the right to a room of his own any of the crew could generally enter and make use of it at will. Them what's earned a ship together, own a ship together. It is a posh room, but amongst the plundered finery your eye falls to Captain's simpler pleasure and tools of trade: crates of books salvaged from past conquests are stacked neatly along the wall near a workstation where someone has been diligently plotting the next sail's course.
Crew's Quarters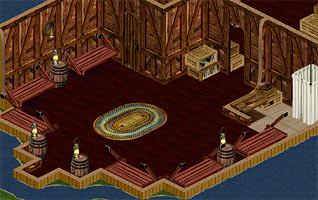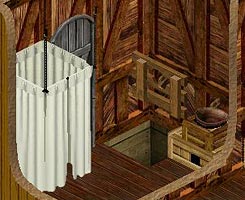 While it's true your average pirate generally sleeps wherever he can manage our lucky crew has sectioned off part of the hold for rest and relaxation.
The ship's head is outfitted with a curtained booth that may be used to change clothing or for a more thorough washing up and an indoor toilet (considerably safer and certainly more comfortable than hanging off of the side of the ship!), and a bowl of washin' up water.
The Galley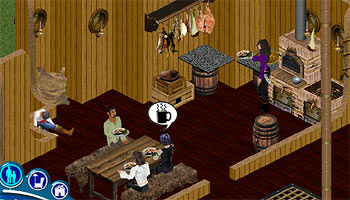 Above Deck the galley houses a massive brick oven suitable for all manner of cooking. Ole Pegleg Pete's managed to set up a proper food preparation area for himself using a couple of food barrels as counter space. A sturdy wall rack is loaded with fresh game and meats, hanging before some are packed into brining tubs. Off to one corner you can always find ole Pete,celebrating his extraordinary flair for kitchen design.
The Tavern
SHOPPING LIST for Aunt B's Pirate Ship at 8 Sim Lane
Expansion Pack Requirements
This Lot Does Require Expansion Packs.
This Lot was built with Deluxe installed. Those without Deluxe installed will need Unleashed or higher to install and use this lot properly.
The lot also uses a few build items from expansion packs. If you do not have the required EP installed you will need to replace stairs, doors and windows. To replace missing doors and windows you will need to remove the section of wall they were supposed to be on (you can identify it by the black band along the base of the wall when walls are down) and rebuilding the wall section. You may then use any door or window you like in that spot.
Architect & Designer: Aunt B