Page 3 : A Variety of Dance-floors (HP)
Several Dance floors with varying degrees of opacity, available with traditional gaps between tiles or as seamless tiling flooring. The light show has been disabled in some of these dancefloors making them perfect for residential lots.
Object Makers Note: All are EZ Clone, combining the dance-floor and the dfcontroller in a single iff. Most are structured like the original dance-floor and use a single set of sprites for all tile. The Cut-A-Rug dance-floor, however, has a unique 4 rotation graphic assigned to each tile.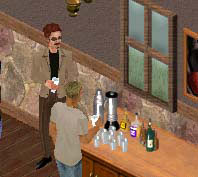 Page 2 : Home Bars and Brunch Buffets
The Social Drinker's Home Bar (incorporates the punch bowl's socializing and fun times)
Granita match wet bar set
Granita match 2-tiled Salad &Dessert Buffet and functioning sideboard
Lapis Tile Bar Set
Cheap (folding table) 2-tiled Salad and Dessert Buffet
Patio Sets - Breakfast, Bars, and BBQs

White Stone Patio Bar
Shades of Shasta Patio
Black Stone Patio BBQ
Santa Barbara BBQ set
Breakfast Hacked Iron Patio Set