Page 3 : Robot Factory
Peter (of Atelier Quebec) has generously made the graphics from several The Sims Online (TSO) available. One of the jobs you could take in TSO was a robot factory. Most of the items found on this page use those graphics.
The money making elements for this set are still being worked on and will not be ready for quite some time.
No expansion pack required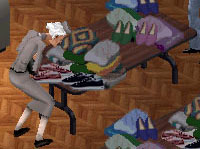 Page 2 : Aunt B's Garage Sale
The garage sale is a simple home business requiring no specific skills. Simply pay fee to automatically fill the tables and visiting Sims will purchase from it. Can be used with or without a cash collection object.
No expansion pack required
Page 1 : Additional Objects
Tools to help any home business run a bit smoother
Automatic visit generators
Cash collection objects
More Home Business and other income generating items may be found in other sections of this site: